Intel wirft Geschäft mit 5G-Modem-Chips hin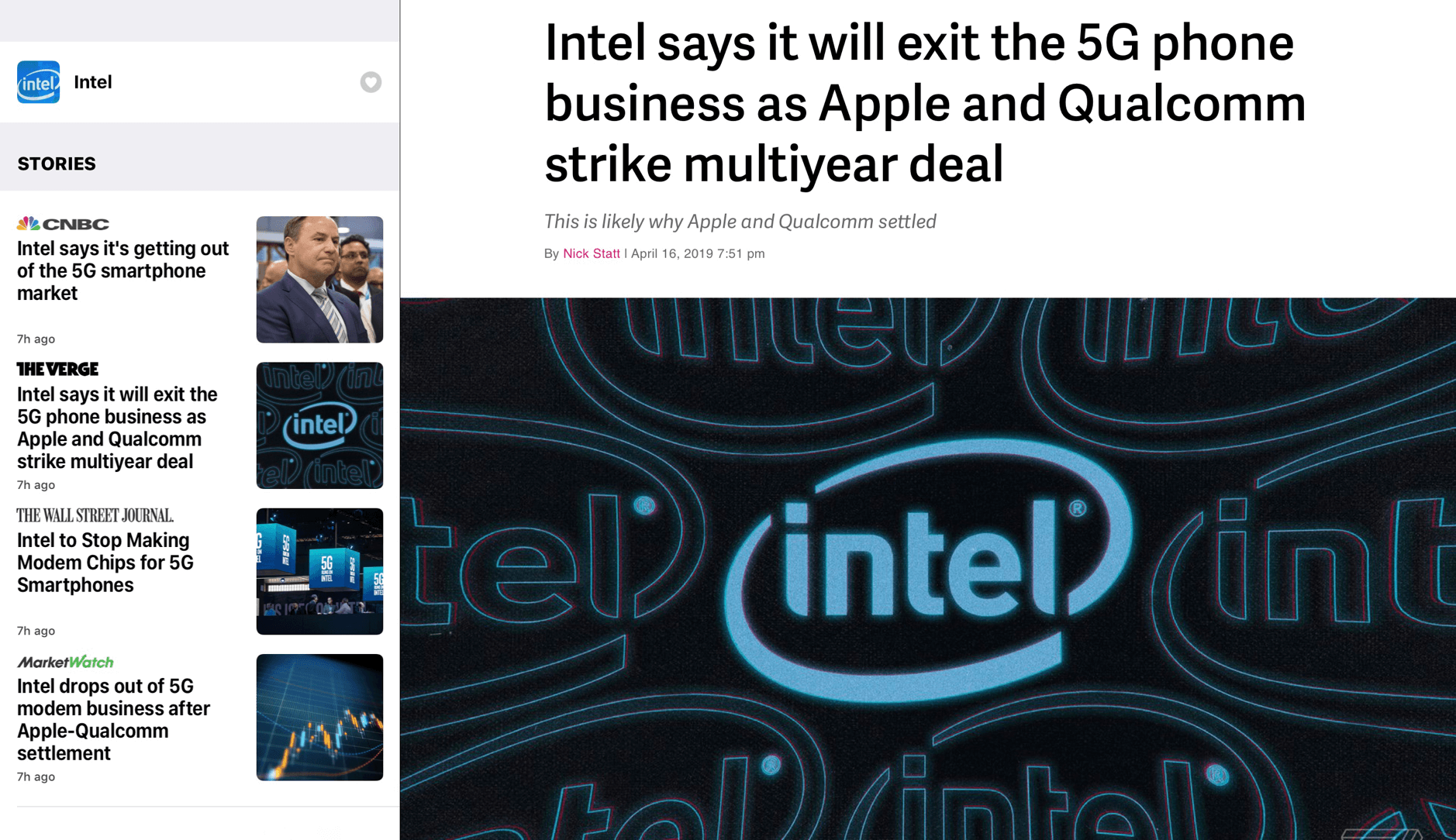 Intel Corporation today announced its intention to exit the 5G smartphone modem business and complete an assessment of the opportunities for 4G and 5G modems in PCs, internet of things devices and other data-centric devices. Intel will also continue to invest in its 5G network infrastructure business.
Die Frage ist: Wer hat mit wem zuerst Schluss gemacht?
Intels Ausstieg bringt Apple in die Zwangssituation mit Qualcomm einen Deal abschließen zu müssen. Andersherum könnte Apples mehrjährige Partnerschaft mit Qualcomm den Chip-Konkurrenten Intel dazu bewegt haben diesen Geschäftszweig aufzugeben, insbesondere wenn der iPhone-Hersteller Intels größter Abnehmer für diese Netzwerk-Komponente war.
Aus der gestrigen Pressemitteilung wissen wir lediglich, dass die Einigung eine Zahlung in unbestimmter Höhe von Apple an Qualcomm beinhaltet. Deshalb tendiere ich dazu meine erste Vermutung als falsch einzustufen: Apple wusste von Intels Plänen ihr Geschäft aufzugeben, hat die eigenen Modem-Chips (und die dafür notwendigen weltweiten Lizenzen sowie Patente) bislang nicht finalisiert, und sah sein iPhone-Geschäft gefährdet.
Bloomberg schreibt:
Apple's decision to cut a deal with Qualcomm was an indictment of Intel's modem efforts. Once Apple decided Intel wasn't capable of serving as a single supplier of high-quality 5G modems, the iPhone maker viewed a settlement with Qualcomm as the necessary conclusion to the multiyear dispute.
Diese monopolartige Situation für eine derartig essentielle Hardware-Komponente dürfte Apple gewaltig gegen den Strich gehen.