"The iPad's erratic odyssey continues"
Overall, Tuesday's announcements left me with mixed emotions. The individual products look fine, and I look forward to trying them out. But zoom out to the iPad line as a whole, and it's kind of a mess. From the old ninth-generation iPad all the way up to the 12.9-inch iPad Pro, there's an iPad for everyone—if you can figure out which ones have which features and whether those features are worth the extra price.
Die iPads waren nie besser; das Line-up war zu keinem Zeitpunkt konfuser.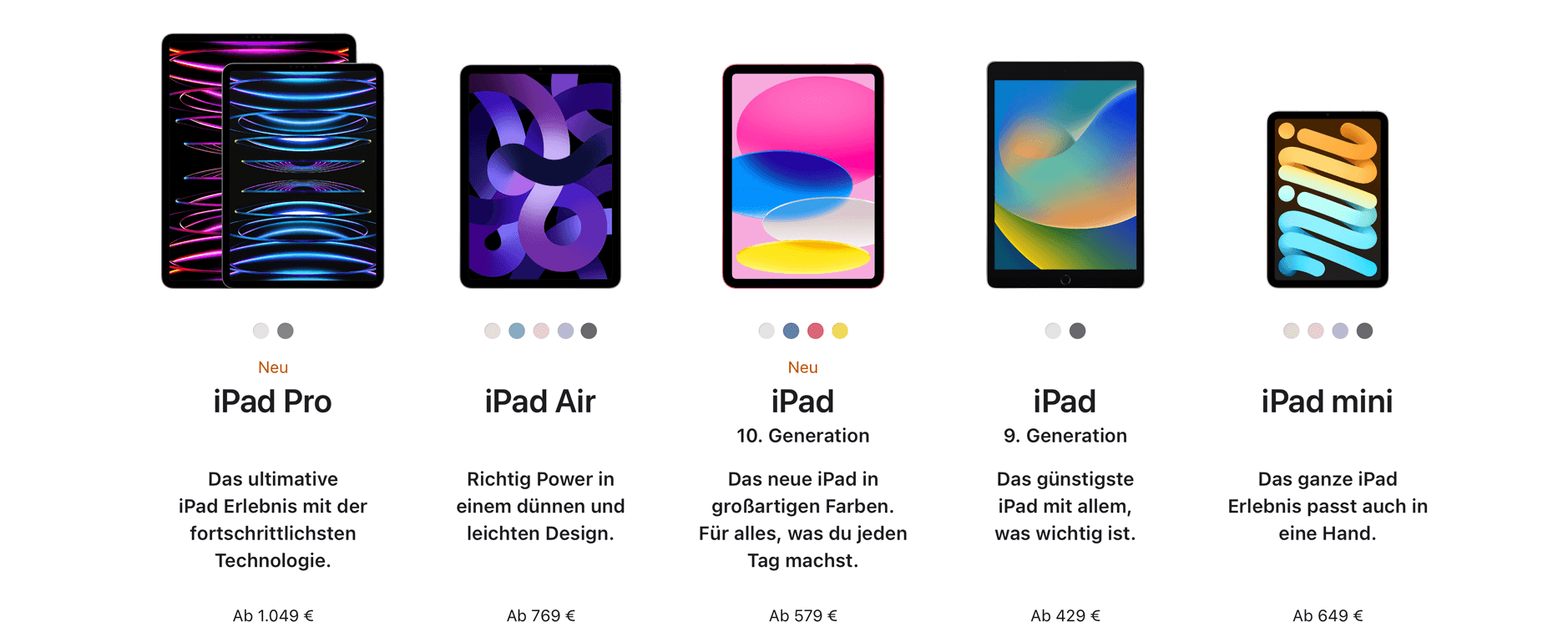 Das iPad mini, iPad (9. Generation) und iPad Air verwässern die klare Aufstellung. Die Beschreibungstexte verraten, wie wenig differenziert diese Modelle sind.
Ich könnte keine generelle Kaufempfehlung aussprechen, ohne zuvor das individuelle Budget und die persönlichen Anforderungen /Erwartungen zu kennen – und mein Job ist es, darüber nachzudenken. Das ist suboptimal, oder? Insbesondere weil das iPad weiterhin seinen Produktfokus sucht.
Die Hardware ist schlicht zu gut. Apple drückt sich um die harten Fragen, anstelle eine klare Ausrichtung zu definieren – beispielsweise in Pro / Nicht-Pro. So überschneiden sich Features – sowohl bei der Software als auch Hardware.
Die iPhones besetzen im Gegensatz dazu rechtmäßig alle Preismarken; es ist eine natürliche Ausdifferenzierung, die alle Käufer_innen abholt. Das Line-up der iPads ist dagegen durcheinander. Mit zwei (maximal drei) iPad-Modellen, die sich deutlich in puncto Software und Hardware unterscheiden und Zielgruppen definieren, wäre es im Moment besser positioniert.