"Stage Manager" auf externen Displays nur für M1 iPads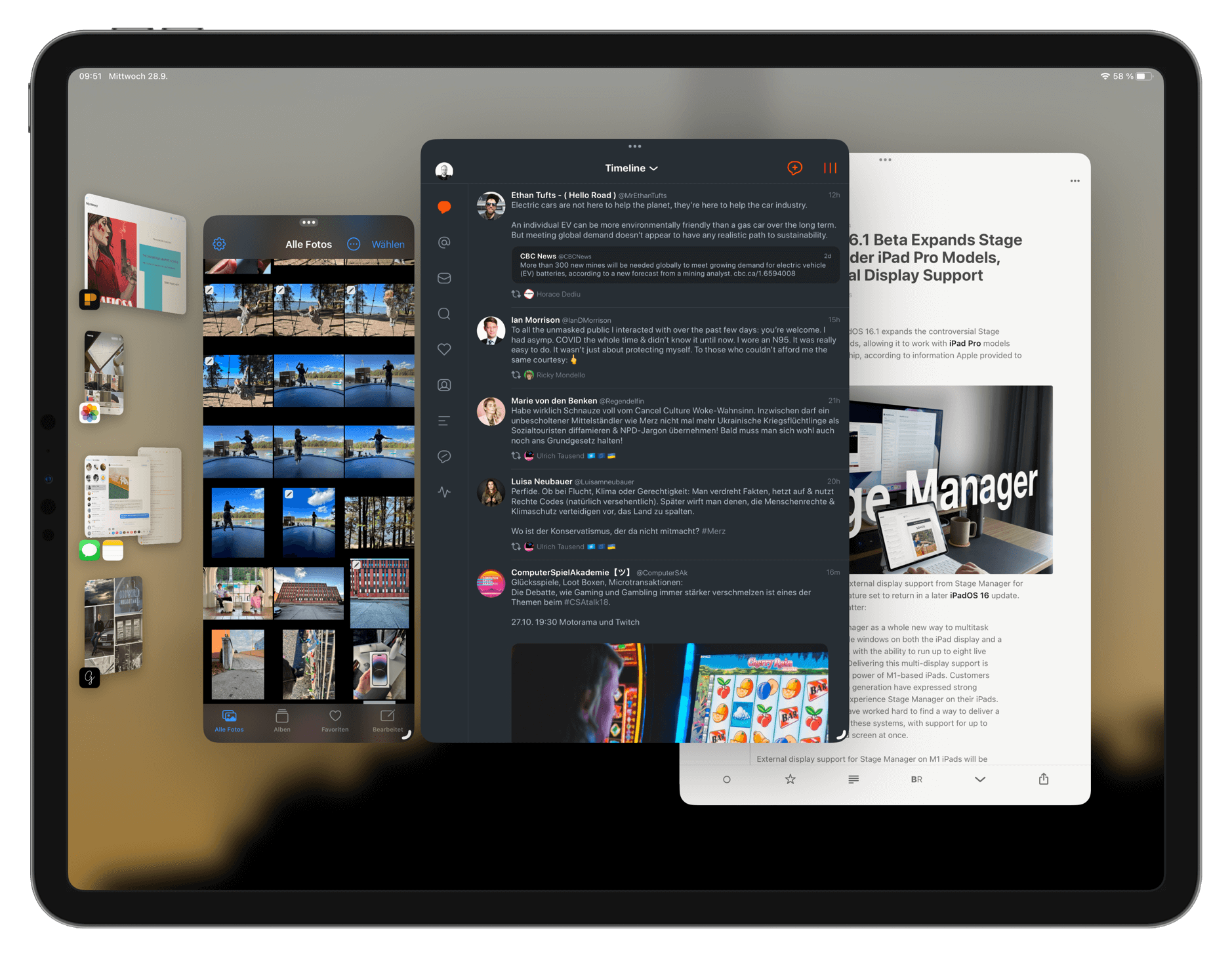 Dieses Statement gab Craig Federighi nach der WWDC 2022 zu Protokoll:
"It's only the M1 iPads that combined the high DRAM capacity with very high capacity, high performance NAND that allows our virtual memory swap to be super fast," Federighi says. "Now that we're letting you have up to four apps on a panel plus another four — up to eight apps to be instantaneously responsive and have plenty of memory, we just don't have that ability on the other systems."

It was not purely the availability of memory that led Apple to limit Stage Manager to M1 iPads though.

"We also view Stage Manager as a total experience that involves external display connectivity. And the IO on the M1 supports connectivity that our previous iPads don't, it can drive 4K, 5K, 6K displays, it can drive them at scaled resolutions. We can't do that on other iPads."
Diese "total experience" gibt Apple nun auf. Ausschließlich M1 iPads (iPad Air 5. Generation, 12,9" iPad Pro 5. Generation + 11" iPad Pro 3. Generation) bekommen die "neuen Möglichkeiten zum Multitasking" auf einem separaten Bildschirm.
Im Gegenzug erhalten die 11"- + 12,9"-Versionen der iPad Pros aus 2018 und 2020 zukünftig die "single-screen version" von Stage Manager.
We introduced Stage Manager as a whole new way to multitask with overlapping, resizable windows on both the iPad display and a separate external display, with the ability to run up to eight live apps on screen at once. Delivering this multi-display support is only possible with the full power of M1-based iPads. Customers with iPad Pro 3rd and 4th generation have expressed strong interest in being able to experience Stage Manager on their iPads. In response, our teams have worked hard to find a way to deliver a single-screen version for these systems, with support for up to four live apps on the iPad screen at once.

External display support for Stage Manager on M1 iPads will be available in a software update later this year.
Es ist eine interessante Priorisierung der eigenen Arbeitskapazitäten in einer späten Beta-Phase von iPadOS 16. Apple dürfte sich durch die breitere Unterstützung eine höhere Akzeptanz für dieses wichtige Feature erhoffen. Speziell das iPad Pro aus dem Jahr 2018, das erste iPad im aktuellen Hardware-Design – hat sich richtig gut verkauft.