Dynamic Island als "software user experience differentiator"?
Wisst ihr, was sich alt anfühlt? Die Anpassung des neuen Sperrbildschirms in iOS 16 auf iPhones mit Touch ID.
Meine Kids haben richtig viel Spaß mit seiner Gestaltung – von Lieblingsfotos über Widgets bis zu Schriftstilen. Die vorangestellte Entsperrung ist auf ihren Telefonen – einem iPhone 8 Plus und iPhone SE (2020) – jedoch umständlich.
Face ID entsperrt im Hintergrund; Touch ID erfordert drei aufeinanderfolgende Berührungen – einen längeren Druck aufs Display, einen kurzen Druck aufs Display sowie den Unlock über ihren Fingerabdruck. Scheitert die Registrierung des Fingerabdrucks, ist der Pin-Code einzutippen.
Natürlich ist die Authentifizierung notwendig; sie lässt sich zurecht nicht überspringen. Apple verkompliziert hier für ältere Telefone nicht absichtlich dessen Bedienung. Sie orientieren sich für dieses Software-Feature vielmehr an den modernen iPhones – mit einer (signifikanten) Ausnahme.
Aber gilt das auch für die Dynamic Island? Ist es eine mutwillige Software-Limitierung auf die Pro-Modelle?
More interestingly — super interestingly, even — the Dynamic Island now introduces a software user experience differentiator. Because Live Activity views are only available on the Lock Screen of notched iPhones (and as fleeting non-user-invokable notifications, like Apple Maps's turn-by-turn directions have been for years), Apple has now introduced major new software features that are only available on the iPhones Pro. There is a hardware component — the smaller sensor array and behind-the-display proximity sensor — but all of the Dynamic Island functionality could be exposed to notched iPhones, just in less cool-looking ways. That's a design choice Apple has (apparently) made, not a function of production costs. It's not just that the Dynamic Island looks better than the notch. It provides utility that just about any iPhone user would enjoy. At least any iPhone user who ever listens to music or podcasts, makes phone calls, hails rides with Uber or Lyft, or follows live sports. And the only way to get it is with a new iPhone 14 Pro.
"Just in less cool-looking ways"? A) So agiert Apple grundsätzlich nicht und B) die Dynamic Island erfordert den A16-Chip.
A big choice that works is Apple overdoing things in classic Apple fashion: the island is meant to feel more like hardware than software — almost like a secondary display that can get bigger or smaller. To get this to feel right, Apple's built a new dynamic subpixel antialiasing system that makes the edges of the island up to three times crisper than all the other animations in iOS, which antialias at the pixel level.
Apple erwähnt diese Hardware-Voraussetzung sogar selbst in ihrer Keynote. Oder wie Sebastiaan de With richtig fragt: "Which other company does this?"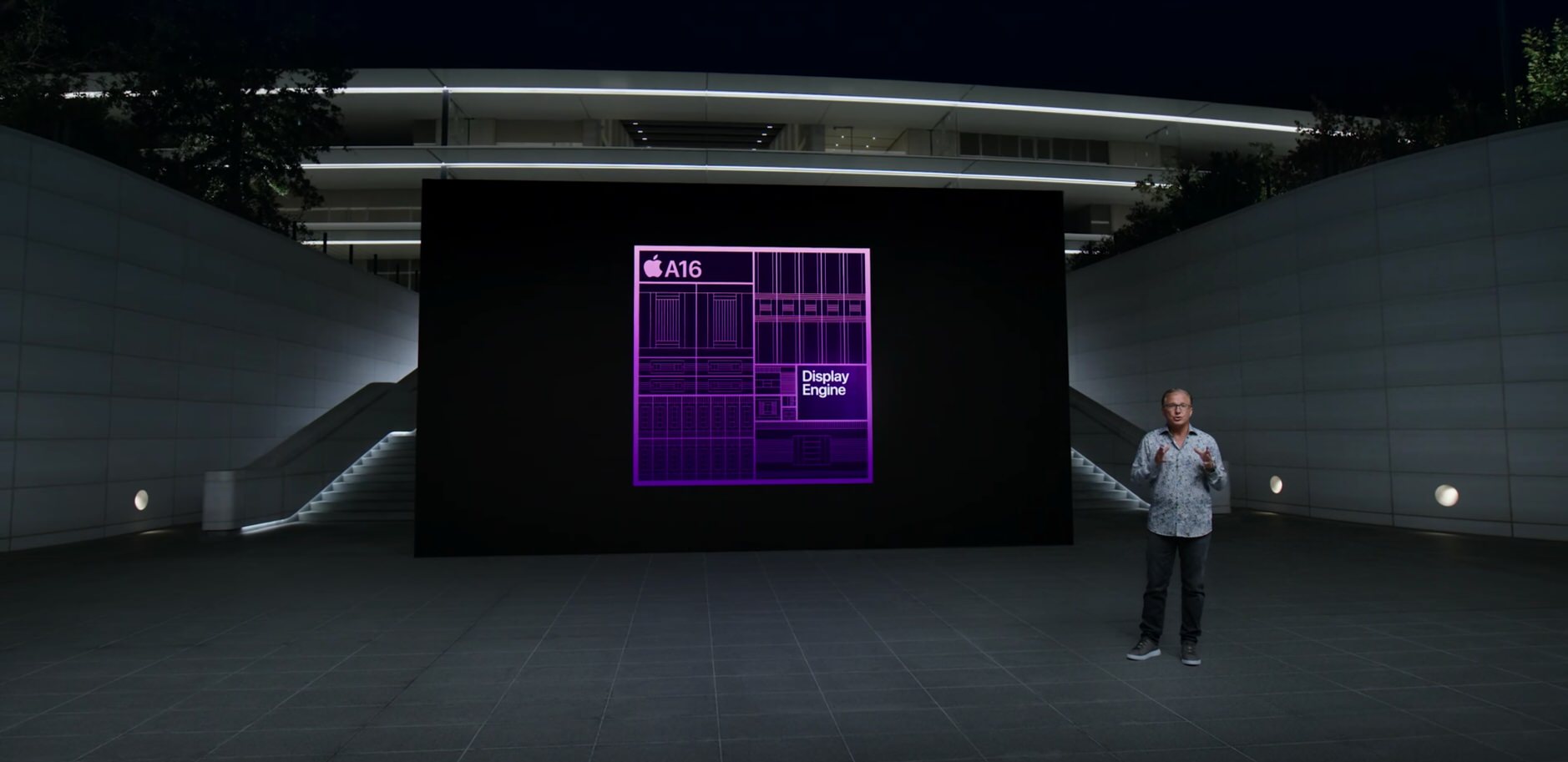 There's also an entirely new display engine in A16. This engine enables the 1Hz refresh rate, Always-On capability, higher peak brightness, and the advanced anti-aliasing that makes Dynamic Island animations so incredibly smooth.
Also ja: Es ist ein "software user experience differentiator", aber er bedingt sich durch Hardware. Hardware, die derzeit nur im Pro-Modell des iPhone 14 sitzt.