Homescreens: Juni 2013 (iPhone 5 + iPad 4 + iPad mini)
Seit der letzte Episode dieser unregelmäßigen Artikelserie hat sich trotz identischer Hardware einiges auf der Software-Seite getan.
Es folgt die Aufstellung meiner drei iOS-Geräte mit ihren derzeitigen Apps. Neu: Die Links zeigen entweder direkt in den App Store (Danke für die Affiliate-Unterstützung!) oder auf einen iPhoneBlog-Artikel, den ich noch für aktuell halte.
iPhone 5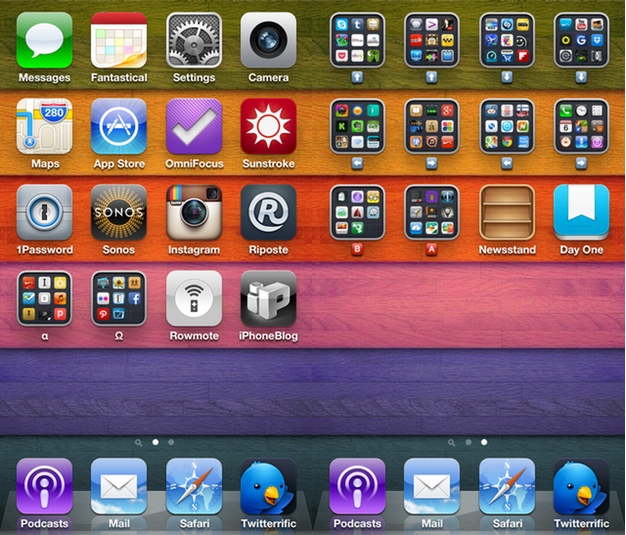 Seite 1
Fantastical, OmniFocus, Sunstroke, 1Password, Sonos, Instagram, Riposte, Nike, Instapaper, Oggl, Foursquare, Drafts, Pinbook, Daedalus, Poster, Byword, PhotoSync, Find My Friends, Flickr, OutBank, Facebook, Path, checkTrakt, Rowmote, Podcasts und Twitterrific.
Seite 2
Skype, Tumblr, Delivery Status, Reitit, Chrono Trigger, Final Fantasy Tactics, Pocket, eBay, Prowl, Find My iPhone, Pushover, Cue, Verbs IM, Prompt, Mountain Bike Pro, Yelp, Articles, iCab Mobile, Air Video, IntoNow, Pastebot, Bitcasa, Transloader, Prizmo, Shazam, IMDb, FlightTrack, Tradedoubler, Uniconsole, Speedtest, Amazon, Flipboard, Glassboard, Pythonista, Skyscanner, Bitly, TuneIn Radio Pro, Nike Fuelband, YouTube, iPhoto, Over, Glympse, Dropbox, TimeLapse, Canon iEPP, CaptureAudio, Llumino, CloudClipboard, SkyDrive, Diptic, Analog Camera, Today Weather, nextr, Kickstarter, Evernote, CrashPlan, Files App, AirPort Utility, Duden Synonyme, Duden Rechtschreibung, Rdio, Threema, WWDC, iBooks, Bits und so, Google+, Kindle, Languages, Withings, TextExpander, SoundTracking, Nike + iPod, Alien Blue, This American Life, Finnish/English, Simplenote, Sphero, Flattr Manager, Google Maps, Chrome, Awesome Baby Names und Day One.
iPad IV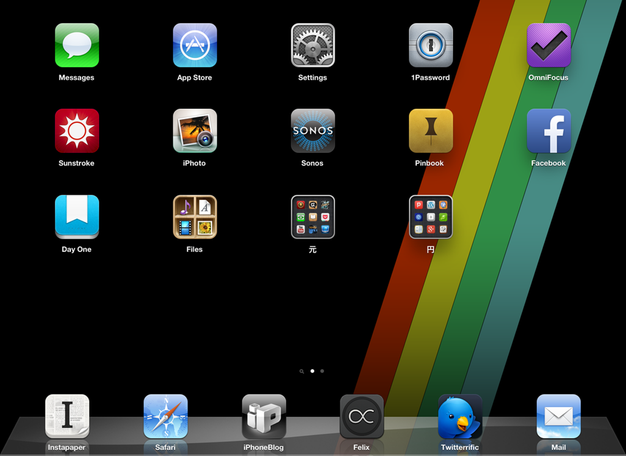 Seite 1
1Password, OmniFocus, Sunstroke, iPhoto, Sonos, Pinbook, Facebook, Day One, Files App, Trailers, Comic Zeal, Comics, GoodReader, iBooks, Pocket, YouTube, Kindle, Air Video, Rdio, Path, Poster, WordPress, TextExpander, Photoshop Touch, Drafts, Diet Coda, Soulver, Google+, Writing Kit, Daedalus, Pythonista, Chrome, Hangouts, Byword, Instapaper, Felix und Twitterrific.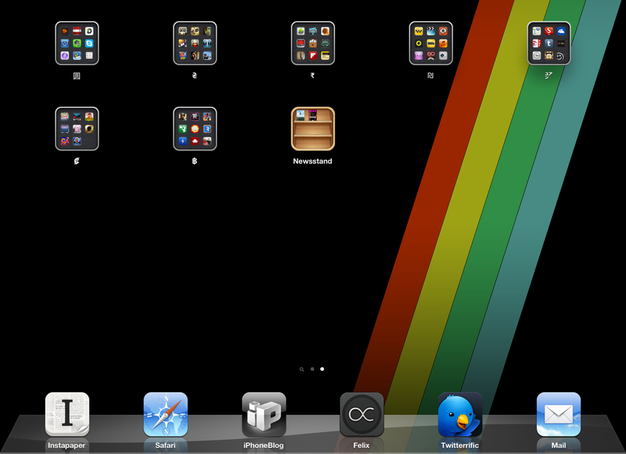 Seite 2
Infuse, Noteshelf, Documents, Mini Display, Evernote, Skype, Instashare, Numbers, Prompt, Verbs IM, Dropbox, CrashPlan, CloudClipboard, OutBank, PDFpen, Plex, The Walking Dead, Kingdom Rush Frontiers, Warhammer Quest, TWEWY, Bastion, God of Blades, Angry Birds Star Wars, Ravensword: Shadowland, Real Racing 3, Poker Night 2, Ankh-Morpork, Frozen Synapse, ColorSplash, PhotoSync, Paper, Tweet Library, Bits und so ReLive, Penultimate, Flipboard, Duden Rechtschreibung, Duden Synonyme, iMovie, iCab Mobile, Halftone 2, Over, IMDb, 60 Minutes, Xbox SmartGlass, GarageBand, Longform, Canon iEPP, Photo Guide, Simplenote, SketchBook, SkyDrive, PDF Expert, Tumblr, eBay, Articles, Uniconsole, HBO Nordic, Bitcasa, Sorcery!, iMAME, Super Crate Box, Gridlee, Liberation Maiden, Badland, Crabitron, Star Command, The Magazine und EDGE.
iPad mini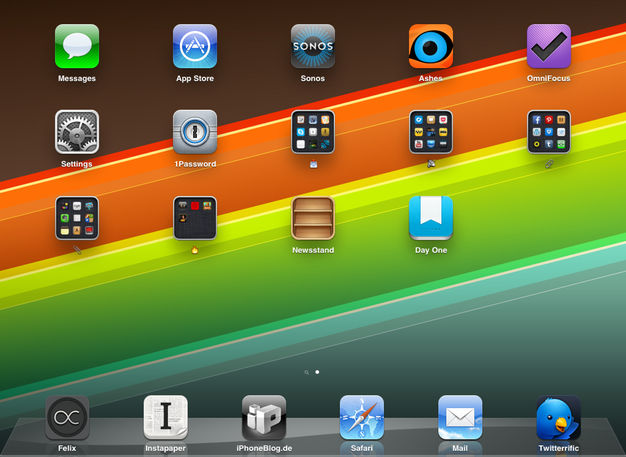 Sonos, Ashes for Fever, OmniFocus, 1Password, Writing Kit, Pages, PDFPen, Skype, Drafts, Pinbook, Ink, Canon iEPP, Airfoil Speakers Touch, Glassboard, Rdio, iBooks, Pocket, iCab Mobile, Kindle, IMDb, YouTube, Air Video, HBO Nordic, Plex, Facebook, Path, Find My Friends, WordPress, Dropbox, AirPort Utility, Over, Tumblr, GoodReader, iPhoto, Penultimate, GameConsole, Status Board, Cue, PhotoSync, Evernote, CloudClipboard, Penny Arcade's On the Rain-Slick Precipice of Darkness 3, Hundreds, Combo Crew, Star Wars KOTOR, Felix, Instapaper und Twitterrific.
Schlussbemerkung: Hübsche Wallpapers fürs iPad finden sich auf 2048px.com. Für das iPhone 5 bin ich zuletzt in diesem Tumblr fündig geworden.